Welcome to the...
PEOPLE PLAYGROUND WIKI
Founded on October 14, 2019
344 articles • 372 files • 3,831 edits
ABOUT THE WIKI
This is the wiki about People Playground, a PC sandbox game developed by mestiez and published by Studio Minus, where we document all of the aspects of the game, including entities, firearms, and more, and you can help out on this wiki too! Note that this is a fan wiki and we are not affiliated with mestiez or Studio Minus!
If you wish to create your own page, please see the Rules and the Page Creation Guide. There will be protected pages every now and then, mainly protected because they are good and shouldn't be vandalized, like the main page itself.
WHAT IS PEOPLE PLAYGROUND?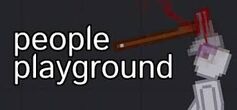 People Playground is a 2019 indie gory sandbox video game developed by mestiez and published by Studio Minus. It was released on Steam for Microsoft Windows on July 23, 2019. The game features a wide variety of items, including firearms, melee weapons, explosives, vehicles and more, along with several widely open maps to play in. There is no end goal to this game, since it is a sandbox, with the main purpose of the game being spawning and killing ragdolls in a wide variety of ways, hence the official description "shoot, stab, burn, poison, tear, vaporize, or crush ragdolls in a large open space". This game also allows modding, where players could create custom modifications for this game to share for the public.
THE STUMP

This is the core of the game's tree, where everything branches off of one another.
DISCORD SERVER Whether it could be used for discussing People Playground, the wiki, or just chatting in an off-topic manner and for fun, all of this is available in our official Discord server! Also, this is the most convenient way you could contact with the wiki's admins.