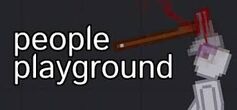 Shoot, stab, burn, poison, tear, vaporize, or crush ragdolls in a large open space.
The only way to contact the admins is with the Discord.
Welcome to the People Playground's ultimate encyclopedia, a 2019 sandbox game developed by Zooi (Mestiez). Here, we gather information on the game's contents, descriptions and details on the many items, and addendums of some of the many anomalies found within.
This is a wiki that is free to edit! (Just don't vandalize it, vandalism is not cool >:C .)
If you wish to create your own page, please see the Rules and the Page Creation Guide
There will be protected pages every now and then, mainly protected because they are good and shouldn't be vandalized. Like this one!
The Stump is the best page to start on.